Visitors at the Panacea Museum- a 2017 review by Volunteer Adrian Bean

A busy old season, 2017. Over 6,000 visitors, but one thing that struck me was how many different languages and nationalities you could have counted as people wondered and wandered about in "God's Acre."
I remember welcoming:
Several people from Australia- always good travellers, Aussies. A couple of years ago we had a visit from Members of the Christian Israelite Church of Australia.
A very interested man from New Zealand.
Two visitors from Belgium.
A couple from South Africa.
Two ladies from South Korea. One of them taught me how to say "Good Morning"
A couple from the Ukraine with two lovely children.
Two people from Norway who spoke excellent English. The lady wanted to find a house she had stayed in 25 years ago, but could only remember that it was near a river. She didn't find it that I know of, but loved the museum.
One visitor from Argentina.
Two people from Germany. As well as a tour for 20 from Wolfsburg (twinned with Bedford) who all enjoyed their trip round the Museum
A dozen visitors from Bedford's Polish community.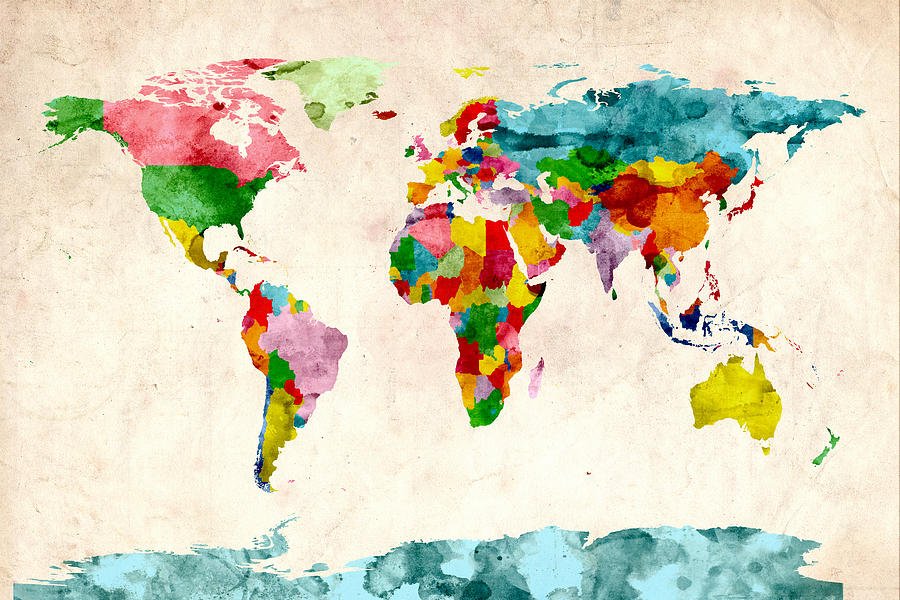 World Map by Michael Thompsett

A couple from Holland.

Two visitors from Russia.
Four people from France.
One lady from from Czech Republic and her partner from Slovakia.
A group of five people from Lithuania
One person from Romania. I greeted him in Polish by mistake- I was a bit too confident!
Two visitors from Bulgaria.
A Danish lady. Well, she said "Tak" when she left so I'm assuming.
Several groups from America.
Two people from Canada. One was a French-Canadian piano teacher, and was very excited about the piano in the Wireless Room.
Quite a few groups from Bedford's Italian community.
Lots of people from Spain- two from Catalonia.
Just one man from Portugal, his name was Jose.
Sad that Doug won't be visiting any more. He was happy here. R.I.P.
A special mention for a wonderful visitor we had from Scotland. She volunteers at Dornoch museum. It looks very good- perhaps the Panacea Museum should be "twinned."?
Members of the Panacea Society who worked in the 'Healing Department' carried out worldwide correspondence in umpteen languages over the decades.
I think that they would have approved of the many nations now present in their Garden of Eden.