Our neighbours The Higgins Bedford are celebrating LGBT+ History Month with a mix of special events and activities.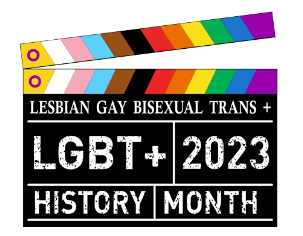 This year's theme is Behind the Lens and celebrates LGBT+ peoples' contribution to cinema and film from behind the lens. Directors, cinematographers, screen writers, producers, animators, costume designers, special effects, make up artists, lighting directors, musicians, choreographers and beyond.

Explore a display of artwork from local LGBT+ people and their response to the theme Behind the Lens in The Higgins Foyer from the 7th February 2023.
There will also be a LGBT+ History Month trail for the 'Changing Times' exhibition from the 7th February to enjoy as you discover LGBT+ artists and their response to the Second World War. To close the month there will be a LGBT+ History Month Behind the Lens celebration day with a photography workshop so you can get behind the lens yourself, and also a spoken word workshop and performance by local LGBT+ spoken word artist Saskia Lawrence. All Welcome!
'Changing Times' Exhibition Trail for LGBT+ History Month 2023 'Behind the Lens', available from Tuesday 7th February to Tuesday 28th February.
Follow the new trail in the 'Changing Times' exhibition to find the stories of the young queer New Romantics artists. Their beautiful pastoral scenes were an antidote to the second world war which affected them all in different ways. Featuring works by John Craxton, Keith Vaughan, Edward Burra and John Minton the trail as a new way to look at this popular exhibition.
LGBT+ History Behind the Lens celebration day will be Saturday 25th February 11am – 3.30pm
Behind the Lens photography workshop 11am – 1 pm
Join Chas Leslie for a fun photography workshop on top tips to capture great photographs and explore the theme 'What LGBTQ+ means to me'.
Behind the Lens Spoken word workshop and performance with Saskia Lawrence Saturday 25th February 2 – 3.30pm
Come and listen to Saskia our spoken word artist share their poems and have a go at expressing your own words creatively in this beginners workshop, everyone welcome.