Hats Off to Woman Shall Inherit the Earth
by Volunteer Adrian Bean
Just as one exhibition ends.....another one comes along to the Panacea Museum to puzzle, delight and occupy the curious.
On average, visitors to The Louvre spend just 15 seconds viewing the Mona Lisa, perhaps the most famous painting in the world. So you'd think that to see an exhibition of 29 works in Bedford would take, say, 10 minutes or so. But no, the excellent NOHAT exhibition, of 29 items created by female artists, will need a long time to take in; some exhibits really made me think. And surely that's the real point.
To choose just four:
There's the worrying uneasiness of "Disturbia III," supposedly a joyful playful scene, but which has horror film undertones. The happy young girl is made to look like a sinister character from Royston Vasey, and all around her are references to doppelgangers and other darknesses. Just as Blake's dangerous Tyger is cruel, but seems to be smiling, so the playful, happy girl in "Disturbia" has a darker, reverse side. Good or Bad? Utopia or Dystopia?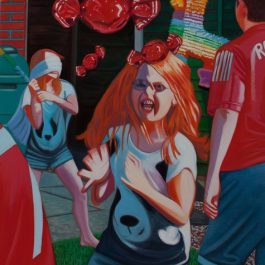 detail from 'Disturbia III' - Emma Richardson

Then there's 'Punchie Poo', the welcome take on Mr Punch, supposedly a favourite cheeky character that we all like (well, even less than Clowns, as far as I'm concerned). He is a shrivelled, diminished figure and the word that came to mind was "Trumplike." A well-liked popular hero? No.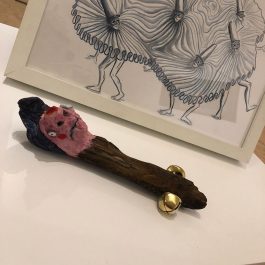 'Punchie Poo' & detail from 'Punches in the Multiruff'- Faye Spencer

Then there's the simple goodness of "A Godly Lady Revealed" a piece  made from the subject's correspondence, that quietly shows the kindness, through the years, of a Good Woman. To me the piece not just highlights the woman herself, but also the goodness of the artist herself. You can sense the sincerity.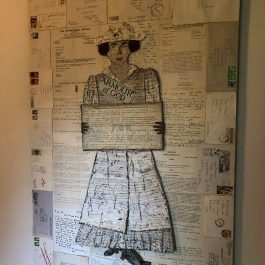 A Godly Lady Revealed- Wendy Watmough

And, sadly, there's "Chemical Attack." A hellish Dystopia can come in many forms, but this painting sums it all up in a way that is simple but correct. If you view it for less than 15 seconds, then maybe it's because we don't like the truth that it portrays.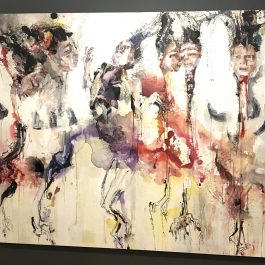 detail from Khan Shaykun Chemical Attack - Nour Zantah

First-time visitors to the Panacea Museum itself often say that they find far more to see and think about than they had expected. So they come again. People like the unanswered questions and the strangeness, and so it is with the NOHAT exhibition, which fits in well with the Panaceans world of their wished-for Utopia, but which, underneath, could be a dystopia for some. It isn't set in a conventional  Art Gallery, but an environment that adds to the meaning of the works themselves. There's no need to hurry; Time stands still here you know.
The NOHAT exhibition last year was excellent; this one is even better. It will make you, and not just the cognoscenti, think.
The exhibition is on show during Museum opening hours until 26th August.