I meet the Daughter of God- An extract from the fiction book 'Imagining Eden' by Adrian Bean
Mrs G told me that I was to become a Lay Associate as well, so I had to meet Mabel to go through the introduction process. I waited in the hall at number 12 Albany Road, arriving a few minutes early for my 10.00 AM appointment. I was told that she had already done a Trojan's amount of work, as she was a night owl, needing hardly any sleep. She wasn't well as she suffered all sorts of pains for the sake of earthly sinners like myself, so I should make allowances for her. So said her assistant, a small woman like a dormouse, peering up from round spectacles, slowly telling me what was necessary then rushing away to do something else as if there wasn't enough time in the day to do all she wanted. Later on I realised she was always hyperactive, working in small bursts then stopping to recover and rush off again.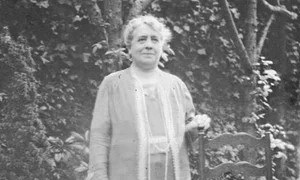 Octavia / Mabel Barltrop in the Gardens of the Panacea Society

She took me into the Front Parlour, where Mabel was sitting in a chair at the round table in the middle of the room. She got up immediately and tilting her head to one side, gave me the kindest and most sincere smile I had ever been given. She realised I was nervous as I tried to stutter out a "Goo..Goo..Good M..M...M.." but didn't interrupt me. I would have hated that. She waited till I had managed to greet her, then stepped towards me, put her hand on my elbow and said softly "Please, Etholle, come and join me in my home. I'm SO pleased you have come." She did this while looking at me with what I immediately though was a maternal expression, and made me feel safe. She smelt of roses, as if we were in a garden. I sat two chairs away from what I assumed was her preferred seat, but after a few minutes she got up and sat in the chair next to me, as if she was so interested in what I had to say that she had to sit closer so as not to miss anything I said. I was such an important person that she would move to be near me rather than the other way around. Although she sat next to me, she moved her chair so that it faced me and I found myself moving my own chair so that we were face to face. At one point there was a knock at the door and when the dormouse lady was allowed in, to tell Mabel that a very important guest had arrived unexpectedly from America, Mabel waved her away, saying that she would see him later, and that she was so enjoying our chat that the important person could wait. When we carried on, Mabel said "Important eh?" with a raised eyebrow. Then she gave me a crafty wink, a smile, and away we went again. When I stuttered she always let me finish, and always listened to what I said, sometimes repeating back to me what I had said a few minutes before. She made me feel a better person than when I had gone into the room. When I left her I really did feel the most important person in the world. I knew that she was important, but she made me feel important to her. I felt like a Queen. She made you want to never let her down.

When I left, I called her Octavia.